Welcome to the USS London NCC 24304-A
Written by Vadm. Uvar
Friday, 13 April 2012
Space, the final frontier..
These are the voyages of the USS London NCC 24304-A, Sovereign class, dedicated to protect the innocents and the universe.
The curiosity and passion of discovery...it's what drives us and spurs us all. To explore, discover and experience the new and unknown...it's why we are here. Sir Francis Drake, Ferdinand Magellan, Lewis & Clark...we wonder in awe at their adventures and heroic spirit. But in the annals of Starfleet, one figure, his crew and his ship stood out as a shining example of what it meant to explore, to seek out new worlds and new civilizations...
The London has been exploring space for 9 distinguished years. Will there be more for them to explore? The answer is YES!!
Come join the USS London and her rew in their exploits across the vastness of space...do you have what it takes?
Please direct any questions to Adm This e-mail address is being protected from spam bots, you need JavaScript enabled to view it
We invite you to access our site by using the navigational menu to the left.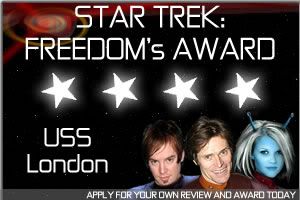 Last Updated ( Sunday, 30 March 2014 )
Written by Vadm Uvar
Saturday, 19 October 2013
Current Mission
M32: The Puppetmaster
Synopsis
Having successfully delivered the medical supplies to Thiopa Prime and dealt with some rogue Ferengi Marauders the USS London and its crew are back on their usual route to the Sol system.
However, the command staff is puzzled by the fact that they still have no clue who killed Captain Beilby. Documents have indicated that shapeshifters might be involved. That starfleet command is comprimized.. key members have been replaced by clones or even shapeshifters. Can they figure out what is going on?? Or will the London and its crew be alone in their quest to save Earth??
What about the other Federation members?? Why do they keep silent.. Politics??? or other intrigues?? Who or what is pulling the strings.
Join us and find out.
+++++++++++++++++++++++
Junior crewmembers wanted.. would you like to write and not have the burden of a department head then join as a crewmember, yeoman or even civilian.
Started: March 1, 2014 - Ended....&
Last Updated ( Friday, 28 March 2014 )